Did everyone have a great weekend? I hope so. Christmas is in
five
days! Holy cow! That means five more days to shop, so get moving if you haven't finished. ;)
Last Thursday Jim and I went out to
Perricone's Marketplace and Cafe.
This Italian restaurant in downtown Miami is fantastic. We always go on Thursday nights with some of our friends because they have $10 pasta dishes. If you ever make your way to Miami, definitely check this place out if you're in the mood for Italian food. It's casual, it's quaint. It's got a rustic atmosphere, and if I may be so bold, even a whimsical feel, especially if you happen to sit outside. Their marketplace is swarming with cheeses and meats, salads, chocolate, and gelato. Their chocolates are adorable - usually they are shaped like little animals. Because it's almost Christmas, last Thursday I saw penguins and Christmas trees.
Their food, holy crap. It's divine. Their desserts? Even better. I want to specifically point out one of their pasta dishes - Fiocchi Gorgonzola.
"Purse-shaped pasta stuffed with fresh pear and Gorgonzola cheese. Served with a walnut Gorgonzola sauce."
Appealing? Or maybe it doesn't sound so good to you? Well forget you ever had that thought. You HAVE to try this. I have gone to this restaurant so many times, wanting to order this dish because I knew how wonderful it tastes, only to chicken out. Mainly because I'd only ever had one bite (thanks to a friend). But I finally got it this past Thursday and man, it's truly sinful. I'm making myself hungry, and it's only 9:30AM. I'm really sorry I have no pictures for you guys, usually the lighting is very dark and it makes taking pictures difficult with my crappy little Samsung.
For dessert I always order the Tiramisu -
"traditional luxurious Italian dessert. Imported mascarpone cheese and lady fingers delicately soaked in alternating layers of espresso and Kahlua."
I couldn't help myself. It was so perfect.
What I'm trying to say is, if you're in Miami, GO THERE. You won't regret it. :)
I'm going to skip on over Friday, because Jim and I ate sushi, which I talk about way too much. But know it was delish.
SATURDAY, we took Shadow to the dog park, and on the drive back, the AC in our car broke, so we headed over to Volkswagen to get it fixed. Luckily they could fit us in that day, but that meant a little trip to the mall right next door. And thus, I purchased a couple little items at Sephora to make myself feel better, since we were stranded while the car was being fixed.
By the way, I just need to show you guys a picture of my lover's car. We took this photo a couple weeks back, on our way back from Key Biscayne.
I feel like it looks photoshopped, or on a set. Haha. Anyways....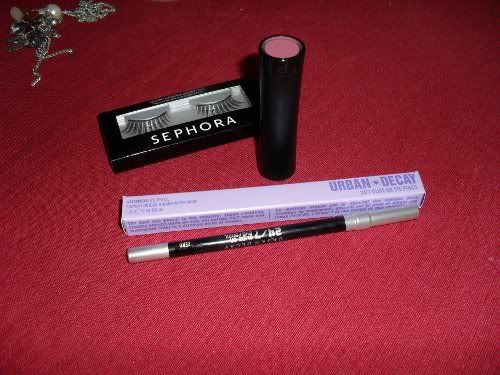 Ok, so no matter the lighting, I couldn't for the life of me take a picture that showed the right color of this Sephora Collection Rouge lipstick. It's "Mmmm...17", which is listed as a muted sandy pink. I love this color. It's now officially my go to lipstick.
The Urban Decay eyeliner I was kind of disappointed with, only because after about an hour it got all up in my eye's business. It smoothed on really nice, but its staying power failed me. I do have very oily lids, but my eye primer just couldn't get this one to stay. I have a couple different primer's so I'm going to try another one today...see how that works.
In three days I'll be headed up to Charleston, SC, for Christmas, and I'll be up there for about a week and a half. When I return to Miami, my parents are following me back down. Needless to say, I will probably be on a holiday hiatus. I will try to do some photo posts and share the city of Charleston with you lovely people. But I can't promise. Either way, I'll definitely see you guys when the new year hits. Love you all! :)
xx