Hey guys! Hope you all had a lovely weekend. Jim had a four day weekend for Veterans Day (my little active duty Sailor! ♥). So now he is currently playing Borderlands. I'll try to leave him in peace for his last day off.
I finally got my cardigan in the mail from Forever 21. It only took a week but it felt like a million years. And since I got it on Thursday, I pretty much wore it all weekend. It's really comfy and warm, but one of the buttons fell off after wearing it twice. And I knew it was going to happen. If you happen to love Forever 21, I'm sorry to say I disagree with you. The only reason I ever shop there is because I'm poor and can't afford much else. Still, lately I've been realizing that I really hate that store. Their clothing is cheap. Horrible quality. Every time I buy something from them, it either shrinks, rips, or falls apart. I bought a tunic from them once and when I received it in the mail it wasn't even made correctly - it was lopsided and tighter on one side. I can't seem to learn my lesson, but I think this cardigan may have been the last straw. And that stands beside the fact that they've had so many lawsuits over sweatshop labor and copyright infringement. Still, Jim sewed the button back on and redid the other buttons as well. Because he's so cool, and because I'm probably the only woman on the earth that can't sew. Negative points for me in Housewife 101.
On Friday we went to Sushi Joe, which is by far the best sushi I've had in Miami. It's a tiny little hole in the wall type restaurant, but the food was very authentic. And delicious. No seriously. Jim got a Top Roll, which was rolled tuna, salmon, crab stick, avocado, white fish, scallion, and masago, and I got a Rainbow Roll: tuna, salmon, white fish and avocado on top of crab salad, avocado, and cucumber. We also got some gyoza, and also zaru soba, because I love soba so much and I could eat that every day as well. I tried to take pictures but they dim the lights down in the restaurant really low. The pictures aren't so great but you can still see a little.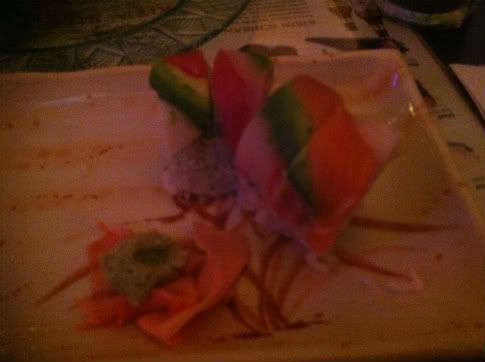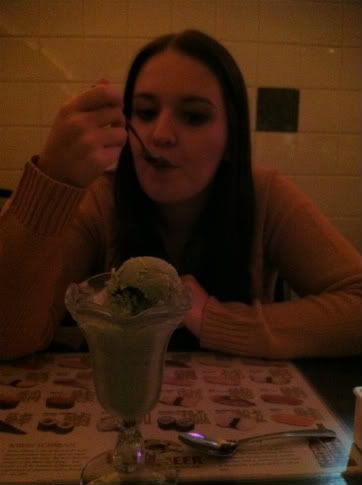 Eating green tea ice cream, which I've been craving endless since that night.
Some more pictures of our weekend.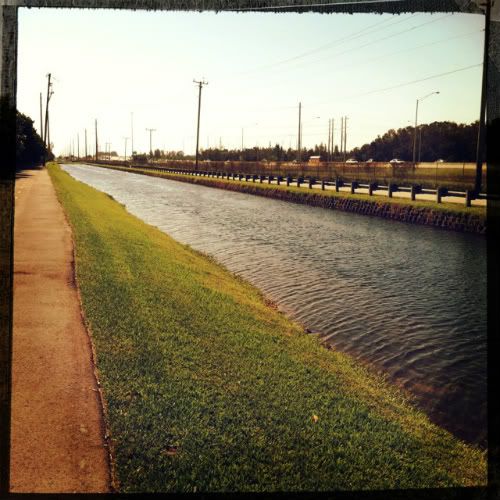 This is the canal that we run on behind our apartment complex.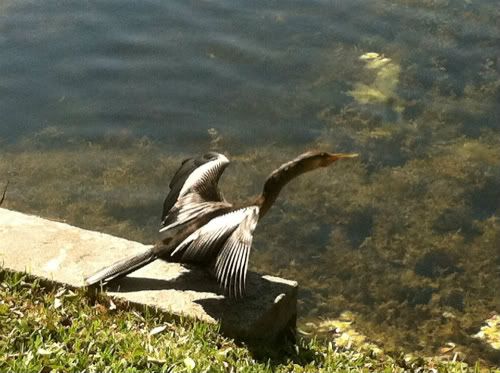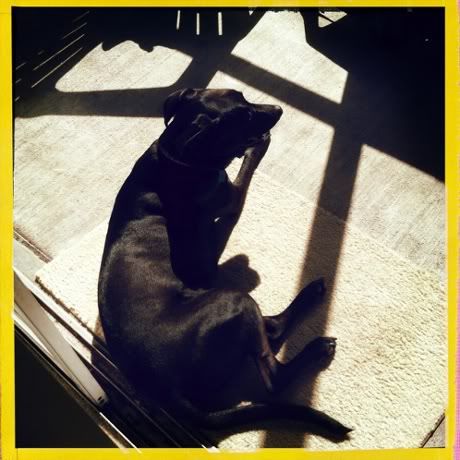 And here's how I'm wearing my cardigan today.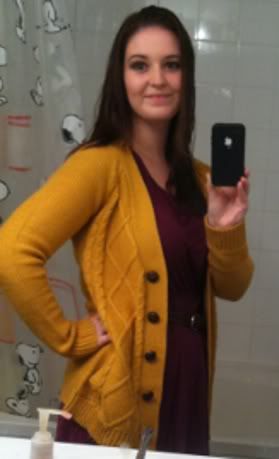 Cardigan - Forever 21
Dress - Old Navy
Belt - Ruche

Face:
Mary Kay Face Primer
Rimmel Lasting Finish 25 Hour Foundation
Maybelline Fit Me Powder
Physician's Formula Mineral Wear Face Brightener
VS Blush (not sure on the name)
ELF Natural Eye palette
Hopefully soon I'll get a better camera. And a real full length mirror, lol.