Happy Friday!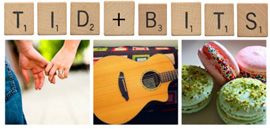 I'm linking up with Alycia over at
Crowley Party
for Tid Bits!
So many wonderful things are happening. First off, Jim's birthday was on Wednesday, and instead of baking him a cake, I figured, why not make some delicious noms featuring the best ingredient ever, bacon?! Of course I have no pictures. I've been slacking picture wise lately, but I made him deviled eggs with
bacon
,
bacon
and cheese potato bites, and
bacon
and chicken pasta with a parmesan cheese sauce. Oh man. So much
bacon
. Needless to say I had to exercise the following morning.
Jim and I have discussed and discussed, and we've decided to have a civil wedding ceremony. My parents are flying out, along with his foster parents, and with the four of them as witnesses, we will be married on June 1st! I
cannot wait
. We will be having a mock ceremony/reception next year, probably on June 1st or sometime around then. So I've got a whole year to plan, but I'm super excited to marry my best friend.
That being said, today we have an appointment at 4PM to go get our marriage license. I don't know how many people get really excited about going to get it, but I am. Maybe because its all starting to fall into place and everything is becoming real and not just an idea in my head.
SO, since we are having a civil ceremony, I picked out the most wonderful shoes. I immediately fell in love with them when I saw them, and purchased them right away. I will most likely wear a simple dress to the ceremony, and I will purchase a real wedding dress for next year. But here are the shoes!
They are not traditional wedding, and I don't care. Because, as I've said before, I'm not the traditional gal. I love them.
On another note, I haven't painted my nails in eons, and my nails aren't in the greatest shape right now, but since I've been feeling so happy, and today is Friday, I decided to paint them.
Later tonight, we are going to a place called
Smashburger
. Jim has been wanting to go there so we'll be checking it out. And hopefully *fingers crossed* we will be taking a little trip up to Laguna Beach tomorrow. I'll definitely stop slacking and take some pictures if we do. I hope you all have a fantastic weekend!
xx Jessica