Hello lovely readers. Let me tell you about a little something I picked up at Sephora a few weeks ago. I had heard a lot of great reviews about Bumble and Bumble products, and I was particularly interested in their thickening serum. I read about it, and started to imagine myself with long, luxurious, thick, wavy hair. In fact, I heard such great reviews about this little gem, that I assumed my fine set of hair would become such a hot wild mess of hair, I couldn't wait, so I ran out and bought it. Here it is!
"Wearing thin? This nightly leave-in treatment fattens and fortifies over time for thicker, stronger strands and fuller hair (really)."
Let me just say that I have tried so many volume shampoos and conditioners: all failing miserably. My hair is pin straight. It has no wave to it whatsoever, and not really much body. This is the first "serum" of its kind that I've tried, and I'm honestly hooked. Unfortunately, I don't have hair pictures to show you. However, I've been using this stuff every night, and sometimes twice a day (as it says it can be used twice daily), and I can see a noticeable difference in my hair. The strands really do appear thicker, particularly when I use it in the morning. When I put it in right before bed, it also appears much thicker, but tossing and turning all night sometimes flattens my hair. It also FEELS stronger. And this product isn't greasy
at all
, which is also a problem for my hair. The serum itself is very watery, and you only need one or two pumps. It doesn't feel like much, but once you put it in your hair, there's an immediate, noticeable difference. My hair
really
is thicker, stronger feeling, and has body and some nice movement too it. I guess that's why they put "really" on the front.
Draw backs? Ok. It didn't give me a wild hot mess of hair like I wanted. But, I should probably lower my expectations haha. Did I REALLY think my hair would turn out that way? No. I just kind of wished. Maybe if I stick to a mantra of wishful thinking, my hair will grow out thicker. Lol, right.
Oh, and look at this!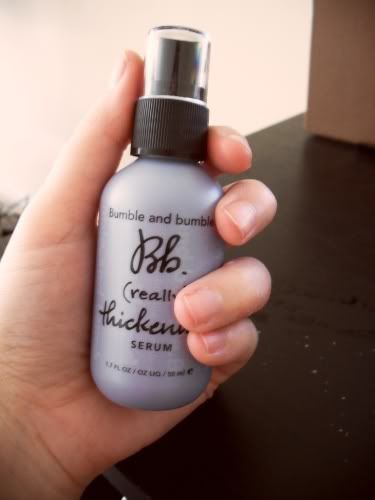 Try not to be too distracted by how creepily finger-like my thumb looks, and notice how small the bottle is. I was a little shocked when I found it in the store and saw how tiny it was. Especially when it normally sells for $27. My particular Sephora was selling it for $22. Yaay.
Worth $22? I'd say so.
Would I purchase this again? Definitely plan on it.
Would I purchase it again for $27? You betcha.
I understand certain products work well for some and awful for others. I'm just so happy to have found something that makes my hair look and feel thicker, stronger, and a little more wild. ;)
On a little side note,
Thoughts of PAPS
awarded me the Versatile Blogger Award! She's so sweet, and has a super cool and CUTE blog, so go check her out!
Thank you to ALL of you who continue to read my blog. I sincerely appreciate it, from the bottom of my heart. <3
xx Jess